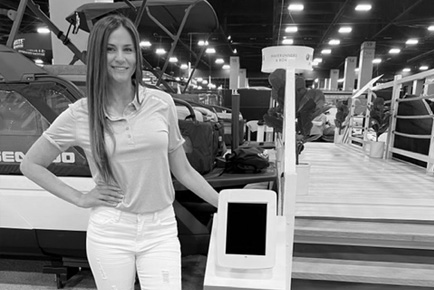 Trade Show Staffing
Our years of trade show staffing experience add to the ultimate success of your event.
At BWP, we understand the importance of placing professional, well spoken and personable staff to represent your company on the trade show floor. Our ability to match trade show staff to our clients' product or service is unparalleled resulting in positive brand recognition, strong relationship building, lead generation and high sales conversion rates.
CHECK OUT THE WORK WE'VE DONE!
Project: MMIC Motorcycle Shows Client: Harley-Davidson Duration / Date: 2018-2022 Location: Toronto, Vancouver, Montreal, Quebec, Edmonton, Calgary
For several years, our team of motorcycle licensed brand ambassadors have worked closely with the Harley-Davidson Canada team at indoor trade shows across Canada to promote the new model lineup of motorcycles, to engage with consumers and to build brand awareness. Teams ranging from 4-12 staff have been provided, including temporary tattoo artists, at a number of large venues. Job duties have included product promotion, lead generation, consumer engagement and distributing promotional materials.

As an enthusiast based agency, we have taken great pride in providing true motorcycle enthusiasts to work at these events!
Like what you see?
We aren't your typical staffing agency! Let us show you how we're different.
Get a quote
I had the pleasure of working several MMIC shows over the years with an amazing team of fellow riders. It was so much fun to work with and promote a brand that I know and love. As a Harley owner and rider, this is a brand I can closely associate with. Not only did we have a great team, but Backwoods Promotions also made efforts to book a number of women-riders to ensure that women were well represented.
Kim, Brand Ambassador.
What does it cost?
The cost for hiring promotional staff, brand ambassadors or general event staff can vary depending on a number of factors:
Date
Location
Length of shift
Type of staff needed
Job duties
For example, hiring a professional off-road driver will cost more than hiring a greeter at a booth.
We take into consideration your budget and additional factors in order to create a customized quote. Contact us now so we can get started!
Other Areas Of Expertise
STREET TEAM
DEMO RIDE
RIDE AND DRIVE STAFF
AUTO SHOW STAFFING
BILINGUAL BRAND AMBASSADORS
MOTORCYCLE LICENSED STAFF
OFF-ROAD STAFF
OUTDOOR ENTHUSIASTS
PRODUCT SPECIALISTS
TOUR MANAGERS
TEAM LEADERS
ON-SITE EVENT MANAGER
ALCOHOL ON & OFF-PREMISE PROMOTIONS
EVENT HOSTS
EMCEES & PRESENTERS
GREETERS
INFLUENCERS
TEAM LEADERS
CONVENTION STAFFING
EVENT MARKETING STAFF
LEAD GENERATION STAFF
PRODUCT DEMONSTRATION
OUTDOOR FESTIVAL STAFF
PRODUCT AND FOOD SAMPLING
IN-STORE MARKETING
Get a quote