Tag Search results
Searching for: Harley-Davidson Canada [ 9 results ]
---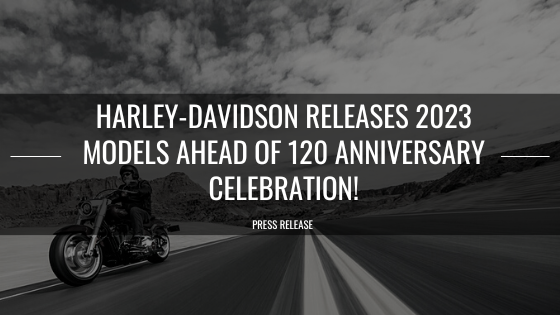 Harley-Davidson Releases 2023 Models!
HARLEY-DAVIDSON KICKS OFF 120TH ANNIVERSARY WITH REVEAL OF 2023 MOTORCYCLES Limited-Edition Anniversary Models Plus Four New Motorcycles (TORONTO, ON) January 18, 2023 – A year-lo...
READ MORE
2021 - A Year In Review
Let's celebrate the roads we've blazed in 2021! Some of our most memorable moments this year were catching up around campfires at Hay Days, off-road races across dunes of the American Sout...
READ MORE
Fall Event Season Review
Boat Show season is right around the corner! As we begin to switch gears in anticipation for upcoming boat shows we also want to take a moment to reflect on what we've been up to this Fall. For...
READ MORE
H-D Fuel Good Tour Begins in Canada
Fall may be on its way, but there's still plenty of great riding left in the season! This September, Harley-Davidson Canada's Fuel Good Tour will roll into towns across the country...
READ MORE
H-D Debuts Icons Collection
Harley-Davidson recently announced its new Icons Collection, an annual program offering very limited edition motorcycle models designed to elevate traditional forms and celebrate Americana, either by ...
READ MORE
Exciting News from Harley-Davidson
Just when you thought it couldn't get better, Harley-Davidson releases their newest models for 2020! We have been working alongside Harley-Davidson during their LiveWire tour for the last...
READ MORE