Tag Search results
Searching for: Enthusiasts First [ 24 results ]
---
Fall Events Are Winding Down!
In the blink of an eye, it's suddenly October and we're sitting here scratching our heads and wondering where the past few months have gone. A fall event season recap is needed so we can take a minute...
READ MORE
BWP Named Hay Days Staffing Supplier
Just announced, Backwoods Promotions Inc. has been named the featured promotional staffing supplier for Hay Days Snowmobile Grass Drags. Established in 2012, Backwoods Promotions is an award winning, ...
READ MORE
Can-Am Supports IFRD 2021
Valcourt, Quebec, April 30, 2021 — BRP wants it known that riding is for everyone. That is why its Can-Am brand, On-Road and Off-Road, is calling on female riders everywhere to &ldquo...
READ MORE
We Are Enthusiasts First
We often receive questions about what makes us different - what sets us apart from other event staffing agencies that exist. Since day one (almost ten years ago now), we at Backwoods Promotions have a...
READ MORE
Celebrating 9 years in business!
Sitting here writing this letter, I'm not even sure where to begin. Never did I imagine that (a) we would be celebrating our 9th year in business, nor did I (b) envision that we would be faced w...
READ MORE
H-D 2021 Product Digital Launch
(Vaughan, ON) December 9, 2020 – Throughout Harley-Davidson's 118-year history, the brand has never before brought the entire world together to experience the debut of all-new Harley-...
READ MORE
Gymkhana: Travis Pastrana Takeover
Released today, Can-Am Off-Road brand ambassador, Travis Pastrana, joins forces with the Hoonigan team in the most recent Gymkhana stunt video. Just when we thought things couldn't get any craz...
READ MORE
Autumn Across North America
Our event staff team in the United States and Canada spans across the nation! As we cross over into the last half of October we celebrate with them the changing of the seasons. Many of our event staff...
READ MORE
Harley-Davidson Demo Ride Tour
Motorcycle riders from across Canada flocked to dealerships for this year's Harley-Davidson Fall Test our Metal events. The primary focus was to give riders the opportunity to test out the new Harley-...
READ MORE
BWP wins several Stevie Awards!
[TORONTO, ON] – 10 September, 2020 – Backwoods Promotions Inc. was named the winner of two Silver Stevie® Awards in the Company of the Year - Diversified Services, and Company of the Y...
READ MORE
Top 5 New Ways to Vacation
Across the nation our team has changed the way we travel while minding social distance and the changing travel restrictions. Baggage claim has changed into strapping bags onto our roof racks, layovers...
READ MORE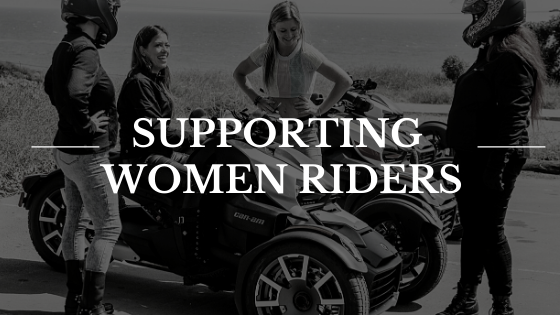 Supporting Women Motorcycle Riders
Surprisingly, women make up only one out of five of the motorcycle and 3-wheel community of riders in North America ₁. Despite increasing numbers of women riders over the past several years, the...
READ MORE
5 Reasons to Get a Motorcycle License
By: Staff Writer There's nothing like the wind in your face, and the power you have when you blip the throttle of your motorcycle. The adventures you'll go on, and the people you wi...
READ MORE
What Makes an Enthusiast?
At Backwoods Promotions, we pride ourselves on providing our clients with excellent event staff, however our community runs much deeper than that. We foster relationships within different niche'...
READ MORE
Tips For Taking Great Event Photos
Oftentimes, brand ambassadors are required to take event pictures to provide to a client during or after an event. As a result, it's up to you to capture the hype and energy at an event, which ca...
READ MORE
Top National Parks - USA and Canada
Are you trying to add national parks you haven't visited yet to your bucket list? Although it was a tough pick with 60 National Parks in the USA and 48 in Canada, we tried our best. Sit back, sc...
READ MORE
Make Your Resume Stand Out
The event staffing industry has given us an incredible amount of job opportunities. At Backwoods Promotions we thrive by combining our passions with our purpose, you should too! If you are beginning...
READ MORE
The Smart Traveler
We love to wander, to travel and revitalize our spirits with new scenery, different cultures, and adventures. Whether you're starting to itch for your very first excursion, family vacation, or you'r...
READ MORE
Top Fishing Spots - USA and Canada
Ok, we get it. There are so many great fishing spots, how can we choose only six? It was a hard pick but with the help of a few of our brand ambassadors both in the USA and Canada we were able to na...
READ MORE
Maximizing Productivity at Home
Working remotely or at home has been a very trendy topic over the years. Many people found it fascinating that with technology we can now work from a beach, a campsite, a different count...
READ MORE
First Time Snowmobile Adventures
In the past six months working full time for Backwoods Promotions I have gone on many adventures. Some have been familiar, and yet many have taken me to places I never would have dreamed of. I&rsquo...
READ MORE
Top 5 Motorcycle Rallies of 2020
As warmer weather starts to melt the snow, motorheads can't wait to bring their bikes out of hibernation and hit the road for their first ride of the season. In preparation, it's time to a...
READ MORE
Ski-Doo Changes the Game!
We are just as obsessed as Ski-Doo is for adrenaline filled adventures, and now they just took it a step further. Just recently, Ski-Doo launched their all new Summit 850 E-TEC Turbo that will rede...
READ MORE