Tag Search results
Searching for: Harley-Davidson [ 20 results ]
---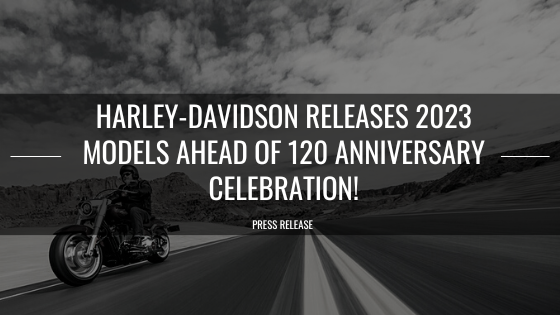 Harley-Davidson Releases 2023 Models!
HARLEY-DAVIDSON KICKS OFF 120TH ANNIVERSARY WITH REVEAL OF 2023 MOTORCYCLES Limited-Edition Anniversary Models Plus Four New Motorcycles (TORONTO, ON) January 18, 2023 – A year-lo...
READ MORE
2021 - A Year In Review
Let's celebrate the roads we've blazed in 2021! Some of our most memorable moments this year were catching up around campfires at Hay Days, off-road races across dunes of the American Sout...
READ MORE
H-D Fuel Good Tour Begins in Canada
Fall may be on its way, but there's still plenty of great riding left in the season! This September, Harley-Davidson Canada's Fuel Good Tour will roll into towns across the country...
READ MORE
Introducing LiveWire ONE
MILWAUKEE (July 8th, 2021) - Today, Harley-Davidson, Inc. ("Harley-Davidson") (NYSE: HOG) presents the evolution of LiveWire (LiveWire.com) as a standalone brand and the introduction ...
READ MORE
H-D Debuts Icons Collection
Harley-Davidson recently announced its new Icons Collection, an annual program offering very limited edition motorcycle models designed to elevate traditional forms and celebrate Americana, either by ...
READ MORE
Harley-Davidson 2021 Models
(VAUGHAN, ON) January 19, 2021 – Harley-Davidson offers motorcycle riders more performance, style, technology and freedom for the soul in 2021. Highlights of the line include the gritty St...
READ MORE
H-D 2021 Product Digital Launch
(Vaughan, ON) December 9, 2020 – Throughout Harley-Davidson's 118-year history, the brand has never before brought the entire world together to experience the debut of all-new Harley-...
READ MORE
H-D LiveWire Ultimate Drag Test
MILWAUKEE (October 30, 2020) – See what it takes to win in the NHRA Pro Stock Motorcycle championship and the future of drag racing with the 10-time champion Harley-Davidson™ Screamin...
READ MORE
Harley-Davidson Demo Ride Tour
Motorcycle riders from across Canada flocked to dealerships for this year's Harley-Davidson Fall Test our Metal events. The primary focus was to give riders the opportunity to test out the new Harley-...
READ MORE
H-D LiveWire Sets New World Records
MILWAUKEE (September 10, 2020) – A Harley-Davidson® LiveWire® motorcycle set all-new records for elapsed time and top speed by an electric-powered production motorcycle on a drag ra...
READ MORE
New Screamin' Eagle Crate Engine
[PRESS RELEASE] Harley-Davidson offers power-hungry street riders a new performance option with the introduction of the Screamin' Eagle® Milwaukee-Eight® 131 Crate Engine for select Soft...
READ MORE
5 Reasons to Get a Motorcycle License
By: Staff Writer There's nothing like the wind in your face, and the power you have when you blip the throttle of your motorcycle. The adventures you'll go on, and the people you wi...
READ MORE
Top 5 Motorcycle Rallies of 2020
As warmer weather starts to melt the snow, motorheads can't wait to bring their bikes out of hibernation and hit the road for their first ride of the season. In preparation, it's time to a...
READ MORE
Riders Are Not Born - They Are made
Every year I make a resolution to learn to do something that I've never done before. That sounds very easy and maybe while you are reading this you can think of something that you'...
READ MORE
Exciting News from Harley-Davidson
Just when you thought it couldn't get better, Harley-Davidson releases their newest models for 2020! We have been working alongside Harley-Davidson during their LiveWire tour for the last...
READ MORE