Tag Search results
Searching for: Can-Am [ 19 results ]
---
Can-Am Wins Dakar Rally!
Can-Am Off-Road Continues Global Racing Dominance with Fifth Consecutive Win at the Dakar Rally Can-Am Factory South Racing driver, Austin Jones, and his navigator, Gustavo Gugelmin, wo...
READ MORE
Can-Am Releases New Content Series
Can-Am Off-Road released their newest content series called "72 Hours," which takes an in-depth look at everything drivers go through the final 72 hours leading into a race. It's a great w...
READ MORE
Can-Am Wins Baja 1000 Race in Mexico
It's official – another one of the world's most prestigious off-road races and another Can-Am victory! Two victories, in fact. Can-Am drivers Phil Blurton and Justin Elenburg both fi...
READ MORE
Can-Am Supports IFRD 2021
Valcourt, Quebec, April 30, 2021 — BRP wants it known that riding is for everyone. That is why its Can-Am brand, On-Road and Off-Road, is calling on female riders everywhere to &ldquo...
READ MORE
Can-Am Off-Road Wins Dakar!
Valcourt, Quebec, January 15, 2021 – Four. Wins. In a row. BRP (TSX: DOO; NASDAQ: DOOO) and its Can-Am Off-Road vehicles just scored their fourth consecutive Dakar Rally victory (2018&...
READ MORE
Can-Am Has Record Breaking Year!
Valcourt, Quebec, Canada, December 17, 2020 – BRP saw Can-Am Off-Road racers set new standards for side-by-side vehicle performance this year. And as 2020 approaches the finish line, the co...
READ MORE
Gymkhana: Travis Pastrana Takeover
Released today, Can-Am Off-Road brand ambassador, Travis Pastrana, joins forces with the Hoonigan team in the most recent Gymkhana stunt video. Just when we thought things couldn't get any craz...
READ MORE
Can-Am Earns BITD Championship
We. Are. The. Champions! This year, Can-Am Off-Road racing teams have earned victory after victory, with impressive success in competitions around the world—and now in one of the most highly cov...
READ MORE
BRP Pilot Project - Uncharted Society
Valcourt, Quebec, Canada, July 9, 2020 – Today, BRP (TSX: DOO, NASDAQ: DOOO) launched a new pilot program, Uncharted Society, that will offer more than 40 expertly curated experiences using powe...
READ MORE
Can-Am Adds New Smart-Shox Tech
Valcourt, Quebec, Canada June 30, 2020 – BRP and its lineup of Can-Am Off-Road vehicles have been on a roll recently, leading the performance off-road world. But never one to take success for gr...
READ MORE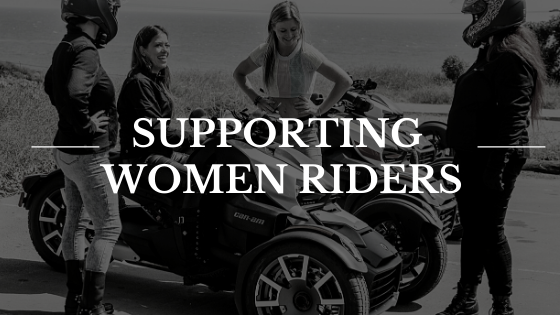 Supporting Women Motorcycle Riders
Surprisingly, women make up only one out of five of the motorcycle and 3-wheel community of riders in North America ₁. Despite increasing numbers of women riders over the past several years, the...
READ MORE
Can-Am Makes History at KOH 2020
Can-Am Rules the 2020 King of the Hammers UTV Race, Completes Podium Sweep in Historic Victory • Officially Crowned: Can-Am Maverick X3 Racers Swept the Podium in what's considered the wor...
READ MORE
Calling All Outdoor Enthusiasts!
Weather seasons are always a factor with any outdoor enthusiast, however, just because an area of the world is enduring a few bitter winter months does not mean that their hobbies have to be put on ...
READ MORE
Professional Bull Riding 2020 Tour
Professional Bull Riders Inc. (PBR)With many comparing its popularity to NASCAR, PBR is steadily growing it's fan base throughout the years, along with many brave riders training and entering th...
READ MORE
The Hunting Experience
As soon as college football season begins, there is another exciting time of year that is shortly behind it. Hunting season in Texas! Hunting Season From getting a few hours of sleep the...
READ MORE
It's Rodeo Time!
This past week, our brand ambassadors worked at the PBR World Finals in Las Vegas, Nevada. Western Gift Expo at the South point Arena. It's more than just an event, it is an experience...
READ MORE
Can-Am Announces PBR Partnership
Press Release BRP has entered a multi-year partnership between its Can-Am Off-Road brand and PBR (Professional Bull Riders). The move brings together two of the most prominent brands within the ranch...
READ MORE